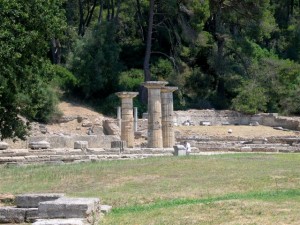 Ancient Olympia is situated close to the western shores of the Peloponnese,  330 km. from Athens. It is a three and a half hour car trip, or a  five-hour bus/train journey from the Greek capital. It is the focal point for all international Olympic events – it is from here – that the Olympic Flame is lit, and sent on its trip to each Olympiad venue around the world. Ancient Olympia has been declared the International Centre of Athletism.

 The archaeological site and museums (new and old museum, and History of the Olympic Games museum) have undergone renovations. All visitors have now modern, up-to-date facilities to enhance their visit to Olympia.
It is considered to be one of the most important sanctuaries of antiquity. Olympia was dedicated to the father of the gods, Olympian Zeus. It is the birthplace of the Olympic Games and also the site where they were held every four years in archaic times.
The area has been populated uninterruptedly since 3000 B.C. and in the late Mycenaean period it became a religious centre. The river Alfios, and one of its branch rivers, Kladeos, that run near the village, have given the area a great natural beauty and have helped it prosper throughout the aeons. Some of the most important monuments are: the temple of Zeus, the temple of Hera, the Philippeion, the Vouleftirion and more. In addition to the temples, are the remains of all the sports structures for the Olympic Games, like the Palestra and the Gymnasium.
Ancient Olympia also hosts one of the most important archaeological museums in Greece. The museum was constructed in 1975, and eventually opened in 1982, re-exhibiting its treasures.

The museum collections consist of:
A collection of terracotta items (prehistoric, Archaic and Classical periods).
A collection of bronze items.
A collection of sculptures (Archaic up to the Roman periods).
A collection from the Olympic Games.

To get to the Archaeological site and the museums it takes approximately 10 minutes on foot from the centre of the village. For further information or details concerning the museum and the Archaeological Site please call Tel: +30-26240-22517 Fax: +30-26240-22529