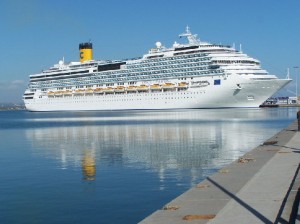 Katakolo (also spelt Katakolon) is a small maritime city with natural and historical beauty, situated at the Preference of Western Ilia, near the ancient city of Fia.
Katakolo combines mountain and sea, as it is the current port of the preference's capital, the city of Pyrgos. The port is full of cafeterias and taverns which replaced the old raisin houses, giving a traditional tone to the area.
During the summer season, Katakolo is full of Greek and foreign tourists and its port is full of cruise ships. If you have some free time, it is highly recommended to explore the Katakolo area's  beauty and to go site-seeing (it's near the ancient city of Ancient Olympia) and swimming to its dreamy beaches.
Every year the visitors' number increases, more cruise ships come to the port and Katakolo has become a tourists' first choice for their summer vacations. However, Katakolo is also a great destination for your winter vacations, as other places of the area wait to be explored by you!
History
In ancient years Katakolo was located in the ancient city of Fia, near St. Andreas' beach. Killini and Katakolo were the only two ports of the preference of Ilia.
During the Homeric years, Katakolo was a famous fortress near the river of Iardano and in the second half of the 5th century B.C (during the Peloponnese war) Katakolo became Athenians' anchor point to conquer Ilia. The port was destroyed completely by a powerful earthquake (6th century A.C.), but until now from St. Andreas' bay we can see the two remaining small islands Korakas and Tigani. Many shells and remains from Neolithic period up until Romans' years have been found and witness Katakolo' s existence during the centuries.
During the Byzantine period and the Middle- Ages, Katakolo had a strong strategic role and magical Pontikokastro, built by the Vilardouins at the remains of the acropolis of Fia, is the proof of it. After Greece's liberation from the Turks the centre of Katakolo was dislocated and obtained its current geographical place. It was one of the most important ports of Greece in raisin exportation, however today is only a famous touristic resort.
Katakolo in the 18th century

According to current history, Katakolo was a place for the exiles from Zante and Kefalonia and initially the name Katakolo, before its current significance, had a bad meaning.